"These reports were so helpful and healing for me, I find myself wanting to buy them for everyone in my life that means something to me, or people I connect with."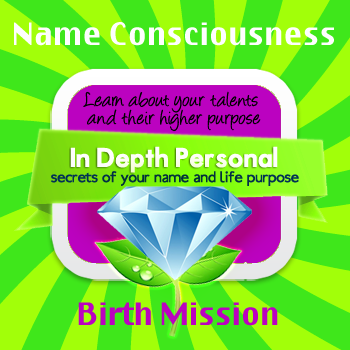 Comprehensive Name Meaning and Natal Secrets
Price:

$22.00
 Check your email right away after ordering. The link will be sent to you so you can create your report online instantly!
The quintessential in-depth numerology character analysis that will enlighten you about who you are are to the depths! Find out about your life purpose, your greatest talents, your true inner self versus the image you project, what you truly want and your quickest route to the love, success and happiness that you desire!
In-Depth Personal is both Name Consciousness and Birth Mission together in one comprehensive, personalized report. Learn how your name provides the experiences and talents that you will use to complete the journey of your Birth Mission. Your name can change and therefore alter your 'methods', however your Mission cannot be changed. True fulfillment is to be found in the full expression of your name, on the path of your true purpose.
This in-depth, personal life-reading, like all of our reports, is exclusive to NumberQuest Numerology and written by the same numerologist who brought you Soul Mate Synergy – the popular soulmate love compatibility reports – as well as all of the NumberQuest Free numerology reports, online since 1995. You won't find a numerology reading like this anywhere else. It's more than a report…
Your complete privacy is 100% guaranteed and we never ever share your personal information with anyone else. Period